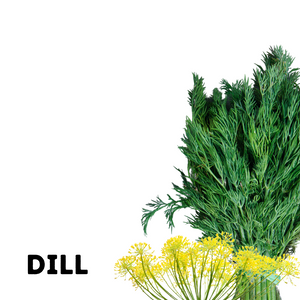 Organic dill bouquet
Are....... you...... ready..... to..... pickle? 
Dill has a flavour that combines those of anise, parsley, and celery with a mild lemon finish. Dill can be used fresh in dishes or as a garnish, dried, dehydrated or frozen for later. 
Keep dill fresh in fridge for up to a week+. If dill becomes wilted you can revive it by placing stems in water. 
Dill: Vitamins A, C, manganese, iron & folate, calcium, riboflavin, niacin, potassium and trace amounts of BC, fibre, magnesium, phosphorus, zine & copper.