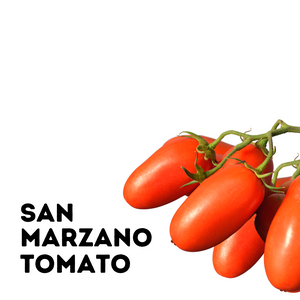 End of Season Flash sale on our Organic San Marzano Tomato | 25lb Bulk Case
Last kiss of summer
25lb

{discount wholesale price}

case of San Marzano  tomatoes 
Want to pick up on the farm?
(If you want to pick up on farm, 

Please message us with the day you would like to pick up and the time.)
San Marzano tomatoes have a low-moisture with a mild acidity, creating a sweet, rich, and complex, flavor. Named after San Marzano Sul Sarno, the town in Italy where they were first grown, they are celebrated by top chefs as one of the best tomatoes used for sauces.
The variety has received so much recognition for its rich flavor, that similar to French Champagne, a Protected Designation of Origin, was given to San Marzano tomatoes grown under strict regulations (in Italy). 
Apparently, even in some Italian towns it is said to be against the law to use any other variety for their pizza sauces!

San Marzano tomatoes are ideal for making sauces due to their minimal seeds, firm flesh, and lower juice content. The sweet and mild variety can be roasted or cooked on the stovetop for use in pasta, pizzas, lasagnas, or ragus. It can also be used fresh for sandwiches, bruschetta, and salads, sliced thin and baked into a savoury tart, or drizzled with olive oil and roasted. Beyond fresh applications, San Marzano tomatoes are famously canned and develop a soft texture when preserved.